PACCA 2017 Award Winners
Meet this Year's Award Winners
Each year PACCA asks its members to nominate their colleagues, those they feel have contributed to the early care and education profession. We received 23 nominations for the two awards this year all demonstrating extraordinary talents, gifts and commitment to the field. Awards were presented at the Early Childhood Summit on October 17, 2017.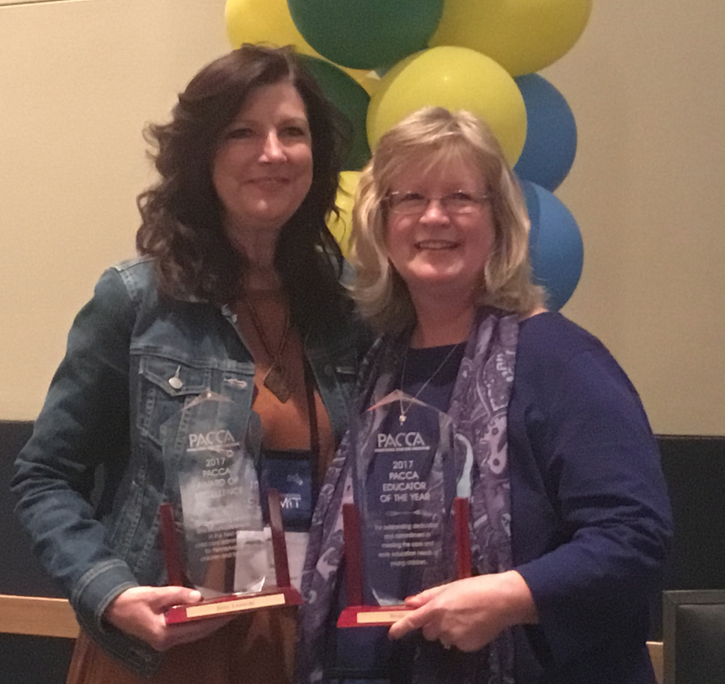 The Award of Excellence honors the director or administrator for outstanding service and accomplishments in management of a program. This year's award was presented to Betty Lisowski (photo right, left) who has been working in the field of early childhood education for over 36 years, and for the past 20 years as the Director of the non-profit Riverview Children's Center in Verona, PA. The center has maintained NAEYC accreditation continuously since 1987, and has earned and maintained a STAR 4 designation in Keystone STARS. They have also been a PA Pre-K Counts provider for 10 years. PACCA received 17 letters of support. There were so many letters, in fact, that we decided that the best way to find out the top themes was to use a word cloud – the words used most frequently by the letter-writers were "Children," "Staff," and "Always."
Because of our outstanding nominations this year, the committee selected two nominees to receive the Educator of the Year award. Moving forward, PACCA will be annually recognizing both a home-based educator and center-based educator. The Educator of the Year honors an individual for their outstanding service and accomplishments in the classroom. Selecting an individual to represent the best in these categories is a challenging task because so many are deserving of recognition.
The Educator of the Year award was presented to Bridget Heinl (photo above, right) of Bridget Heinl Family Child Care Home in Hershey. She has more than 31 years of experience in the early care and education field. She has worked at a before & after school program, a nursery school, child care centers, and has operated family child care homes in two different communities in Central Pennsylvania. Her program is accredited by NAFCC (National Association for Family Child Care) and has been designated STAR 4 in Keystone STARS. The nomination and support letter-writers emphasized her dedication, her warmth, and her support of other early care providers.
The Educator of the Year award was also presented to Joanne Woodburn of Summit Children's Program in Philadelphia (photo, left). She has 30 years of experience - 23 of them at the same program. Joanne was recently promoted to Nature Instructor at Summit Children's Program because she is so passionate about getting children outdoors.
PACCA acknowledges and applauds the tremendous work that all the award winners and the nominees have accomplished.